About Us
Making perfect use of sturdy stainless steel to create precision developed furniture, material handling trolleys and more is our specialty. We are Dhanshri Industries, a Delhi located company, specialized in working as a manufacturer and fabricating Stainless Steel Dustbin With Canopy, Equipment Z Trolley, Railway Drinking Water Booth, 4 Seater Stainless Steel Garden Bench, Stainless Steel 3 seater Waiting Chair and similar products. With deep knowledge of this sector, our company is introducing space-efficient designs of furniture in different dimensions. Our offered tables, chairs, benches, dustbins, trolleys and more are demanded largely in hospitals, canteens, schools, railway stations, colleges, and others due to their strong built, compactness, durability, attractive appearance and strength.
Our Infrastructure
We have a large and commodious 450 sq. meters of production house at Narela Industrial Complex, Delhi (India), for fabricating stainless steel items in numerous designs and sizes. We have all advanced machines for shearing, cutting, bending, welding, grinding, buffing and polishing stainless steel creations in a smooth and prompt manner. With hi-tech facilities, we indulge in fast fabricating of products and meet customers requirements for fast delivery.
Quality & Certification
Dhanshri Industries has pledged to deliver only quality based items which is why it sources only premium grade stainless steel and follows ISO guidelines. As a ISO 9001:2015 certified company, w comply with industrial rules and regulations. We have a strong team of quality controllers who maintain quality during production of Steel Dustbin With Canopy, Railway Drinking Water Booth, Equipment Z Trolley and many more. These controllers also check every furniture piece to ensure perfection in design, built, finish and size. It is only after their approval of fine development of products that deliveries are made to customers location.
Major Markets
We are proud to have expanded our reach from national market to international markets. We are now exporting our collection of trolleys, chairs, tables and more in Maldives and Asian Countries.
Our Brand
Our supreme class collection of products is served under Dhanshri brand name. This brand promises quality excellence and cost-effectiveness to customers. With rising need for tough stainless steel furniture, our brand of offerings is becoming popular in not only national but international regions.
Primary Competitive Advantages
Finely developed stainless steel items
Customization facility
Fast delivery service
Best quotations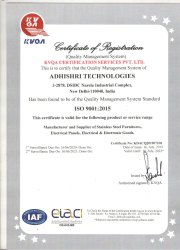 Read More